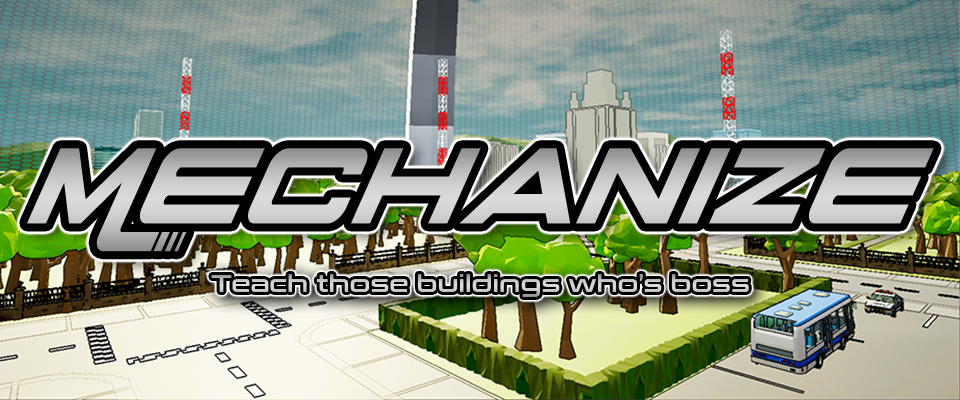 Mechanize (PCVR)
A downloadable game for Windows
Welcome to the world of Mechanize!
What is Mechanize?
Mechanize is a VR Destruction-based game, think rampage but in VR. Attack the city. Destroy structures and fight humanity!
The controls
The game is developed for the Oculus Rift S headset, both controllers are used for the game.
Grab objects by using the side buttons!
Punch buildings by holding the side buttons!
Move around using the left thumbstick!
Look around using both the headset and right thumbstick!
Jump using the "A" button on the right controller!
Look in the options menu for anti-sickness measures if needed!
Your goal
Smash the cities by any means necessary!
The more creative the destruction the more points you get. Humanity is not going to let you destroy its cities without a fight so prepare to use a variety of techniques to destroy as much as possible!
While civilians may have escaped before trapping you within a force field, there are still vehicles sitting around just waiting to be used!
Then there are the pylons scattered around the cities. Use these like a bat or just throw them to cause more destruction!
The team
Ben Chittenden - He's the mastermind behind the code and initial vision of the game. Granted when he's not stuck coding he's always watching some sort of superhero movie!
Links: https://twitter.com/ABritishGameDev
Joshua Couchman - He's the man behind the level and sound design. If you can't find him working on video games, he's probably playing them!
Links: https://twitter.com/TheJoshhyyy
The game was made for the final project of our last university assignment with help and advice from a few external people throughout the time of the assignment.

The game is still in development but we will be taking a break for a while from the game after its release. Make sure to keep up to date on the game through our twitters as well as the devlog section of the itch page.
///Developed in Unreal Engine 4///

Download
Click download now to get access to the following files: